Detailed overview of CC112X and CC1175 low-power 1GHz RF transceiver transmitter
Advertisement
Information introduction
CC112X and CC1175 is a high-performance low-power RF transceiver used to work with the accompanying MCU. The purpose of this user guide is to describe the configuration and functions used to implement the wireless system. C112X automates all common RF related tasks, and greatly unloads MCU. The following is a block diagram showing different parts of the transceiver in RF related parts and part of the digital support function.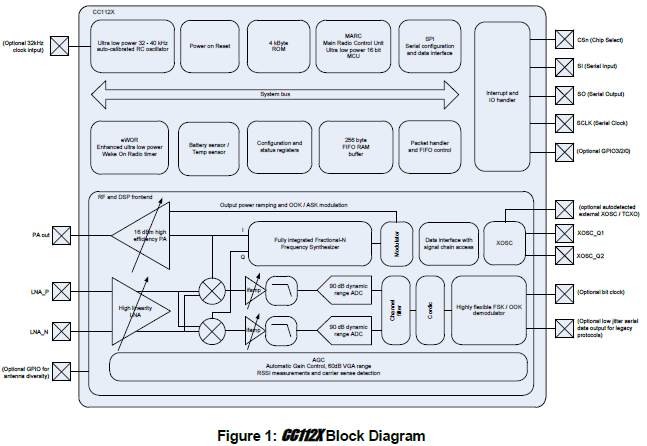 The C112X can be configured to use SPI interfaces for optimal performance for many different applications. The following key parameters can be programmed:
Power down/power on mode (sleep/idle)
Power on/power off of crystal oscillator (idle/XOFF)
Receive/send mode (RX/TX)
carrier frequency
Symbol rate
Modulation format
Channel filter bandwidth
RF output power
Independent 128 byte receive and send FIFO data buffer
Packet radio hardware support
Data whitening
Radio Enhanced Wakeup (EWOR)
Figure 1 shows a simplified state diagram. More about controlling the C112X state machine.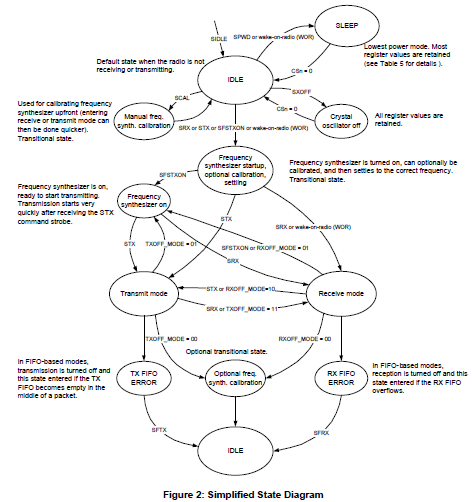 2 Configuration software
CC112X can be configured using SMARTF's Studio Studio software
1. SMASTRF Studio is highly recommended for optimal register settings and for evaluating performance and functionality.
After the chip is reset, all registers have default values, which may be different from the optimal register settings. Therefore, it is necessary to configure/reconfigure the radio through the SPI interface after the chip is reset. SMARTRF Studio provides a code export function that makes it easy to implement this function in firmware.